LIZ SHULER , PRESIDENT OF THE AFL-CIO
ON 9/1/23 AT 7:21 AM EDT00:37
Biden Breaks Silence On Writer's Strike: They Deserve A 'Fair Deal'
Share
Share on FacebookShare on TwitterShare on LinkedInShare on RedditShare on FlipboardShare via EmailComments
OPINIONLABORUNIONSWRITERSSTRIKE
Afew weeks ago, I stood on the streets of New York City with working actors, performers and writers from SAG-AFTRA and the Writers Guild of America who have been on strike for months now: risking their livelihoods to win a fair contract for themselves and all who come after. We chanted. We walked the picket line. But what inspired me most was when working people all around us—overwhelmingly young workers, in their 20s and 30s—saw what was happening and joined in: UPS drivers who laid on their horns to show support. Construction workers who clapped as they passed by. Food delivery workers who stopped for a minute to cheer us on.
Some people don't understand that. They ask: What could a UPS driver, a retail worker, an auto worker possibly have in common with Hollywood writers and actors? The answer is the story of the labor movement in America at this moment—people all over this country who have realized, no matter their job or industry, how much they have in common with their fellow workers. They are fed up with an economy that has been rigged against them. They are rebelling against a broken status quo. And they are turning to unions and the labor movement as their answer because they understand that a union is the vehicle for them to build and hold power to change their lives.
As the president of the AFL-CIO, the labor federation in America of 12.5 million workers and 60 unions strong, I've seen this firsthand. A new poll we conducted showed that more than two-thirds of Americans support unions, the highest number in 60 years. But here is the number that will really grab you: 88 percent of young workers in this country believe in the power of unions. Nine in every 10 Americans under the age of 30.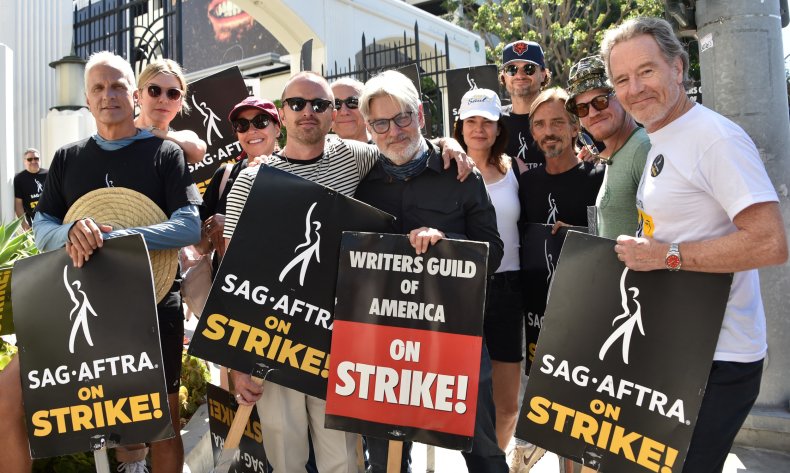 SUBSCRIBE NOW FROM JUST $1 PER MONTH >
This Labor Day, I'd urge every American to ask a young person in your life why their generation is so strongly pro-union. They will point to an economy that has been broken by corporate greed and their place in it; where they worry every month about making enough to pay the rent, let alone afford a mortgage, while CEOs hand themselves tens of millions of dollars. They'll talk about the gig economy—where they are forced from job to job with poverty wages, few basic rights and no security or chance to grow. They will point out how out-of-reach even the idea of home ownership has become.
All the while, they must contend with the existential crises that loom above all: a climate crisis that has them working in 110-degree temperatures. Politicians actively trying to destroy our democracy. Tech and artificial intelligence that executives may use to replace them.
But they're not giving up. They're doing the opposite. More than 200 strikes have occurred in the U.S. since the beginning of this year—many led by these same young people. These young workers are coming into the movement because they know a union on the job is an act of defiance against the status quo. Because our agenda is their agenda: We deliver good-paying, stable jobs. Jobs that are safe. Jobs that do not leave you bouncing from gig work to gig work. And because we use our power beyond the workplace: to stand up for our democracy, protect against AI that dehumanizes and degrades work, and take on the climate crisis. Young workers know what all workers know: It's better in a union.
READ MORE
SIGN UP FOR NEWSWEEK'S DAILY HEADLINES >
We need to start by organizing—making sure every person in this country who wants to join a union can do so or gets help forming their own. We're going to go into sectors of the economy that have never been unionized before—including these new clean energy and infrastructure jobs coming down the pike from President Joe Biden's trillions in investment—and make sure they're good union jobs for this next generation.
And as we get more people into good union jobs, we grow our power exponentially. Think about what becomes possible: Our strikes and collective action will carry even more weight. We can stand up even more directly to big corporations. We can make unsafe workplaces safe and secure a family sustaining wage. We can throw even more muscle into elections at the local and national level: protecting our reproductive rights, our voting rights, and a right to join a union—with the weight of tens of millions of Americans behind us. We can define the future of work on our terms, so that AI is used to make our jobs and our lives better instead of replacing us.
That's where we're headed. This Labor Day, we're on the rise, driven by the energy and activism of working people all over this country. And I hope every American will join us to build the future we're all hungry for.
Liz Shuler is president of the 60 union, 12.5 million-member AFL-CIO, America's labor federation.
The views expressed in this article are the writer's own.